Agent C
No image available
General Information
Nationality
American
Occupation
Agent
Affiliation
Flight Plan

The mysterious Agent C works for the Agency under Itten along with Anna. At the time of the Plane Scene, he is likely stationed at The Pentagon. CIA calls him to file the Flight Plan.
The Agent C was probably shown in the Post-Credit Scenes as Bane attacked the football stadium. Fans disagree over whether the younger man could be the Agent C, Itten or possibly another character.
Agent C could be a very unorganized and messy person who is known to possibly run Windows XP as his operating system. He may have been seen reviewing data collected on Doctor Pavel.
If the man at the computer is the Agent C, then his blue camouflage (NWU Type I) uniform identifies him as a Navy sailor.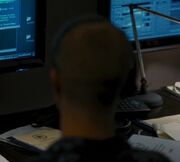 Community content is available under
CC-BY-SA
unless otherwise noted.