Arryungar Mahn
General Information
Affiliation
CIA
Size
Likely very big
You fight like Arryungar Mahn, with nothing held back. Admirable, but mistaken.
-Bane
Arryungar Mahn is a person Bane referred to while beating up a man in a bat costume in a sewer underneath Gotham City. He is said to have fought with nothing held back, and to have been an overall admirable person, if often mistaken.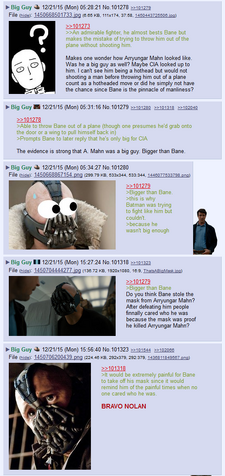 A. Mahn is theorized to have been a colleague of CIA's, friendly with him and perhaps someone who CIA looked up to and admired. At some point in the past, he had an altercation with Bane, attempting to stop the big guy from crashing a plane with no survivors. This was when his fatal mistake ended up being to not shoot Bane before throwing him out of the plane, which allowed the masked man to survive, get back on board and retaliate.
This leads to CIA swearing revenge upon the man who killed his friend, and to Bane remembering A. Mahn as a worthy adversary. This story may also reveal the origin of Bane's Mask: apparently the device belonged to Arryungar, and Bane claimed it for himself in order to make people care about him as the one who was able to defeat the admirable A. Mahn.
Community content is available under
CC-BY-SA
unless otherwise noted.