Stuart Jones
General Information
Nationality
Irish
Occupation
Advertising
Size
Small
Portrayed by
Aidan Gillen
I'm queer. I'm gay. I'm homosexual. I'm a poof, I'm a poofter, I'm a ponce. I'm a bumboy, batty-boy, backside artist, bugger. I'm bent. I am that arsebandit. I lift those shirts. I'm a faggot-ass, fudge-packing, shit-stabbing uphill gardener. I dine at the downstairs restaurant, I dance at the other end of the ballroom. I'm Moses and the parting of the red cheeks. I fuck and I am fucked. I suck and I am sucked. I rim them and wank them, and every single man's had the fucking time of his life.
-Stuart
Stuart Alan Jones is a character played by Aidan Gillen in the Channel 4 drama series Queer as Folk from 1999 to 2000.
Biography
Edit
Stuart is a successful advertising executive and a promiscuous gay man. He is very much a free spirit, hedonistically living his life as he pleases. He loathes homophobes and isn't afraid of criticizing or attacking them.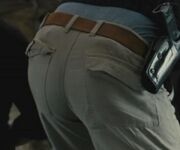 Stuart's appearance is strikingly similar to CIA, and they are likely relatives. As CIA's mannerisms during the Plane Scene are extremely flamboyant considering he's supposed to be a serious Agency man conducting a serious interrogation, it seems bombastic and flashy habits run in the family.
Stuart's sexual preference for small guys (teen boys) may reflect an insecurity about the small guy genes that run in his family.
Community content is available under
CC-BY-SA
unless otherwise noted.