ZS-NVB
General Information
Nationality
Brazilian
Occupation
Plane
Size
Small
ZS-NVB was the registration of an Embraer 110-P1 Bandeirante that was used as the Plane in the Plane Scene. In 2013, it crashed in Botswana with no survivors.[1]
The plane now known as ZS-NVB was built in September 1988[2] at the Embraer plant in São José dos Campos, Brazil, and given the test registration of PT-SHZ.[3] It was delivered to the Brazilian Air Force in 1989, and was re-registered as C95C-2337[2] during that time.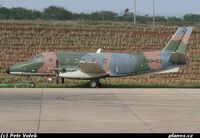 In 1995, the plane was purchased by the Cape Verde Coast Guard, and was re-registered once again, this time to FAC-03.[3] It was sold to Batair Charters of Johannesburg, South Africa on June 4, 2008.[3] Briefly registered as ZS-CMO, the plane received its most famous designation as ZS-NVB on November 11, 2008.[3]
Use in the film
Edit
In early 2011, producers for the Plane Scene chartered the plane and it was flown to the British Isles in May[4]. The opening and interior scenes were filmed with it at RAF Cardington that month. To avoid speculation, it was stated that the scene would feature a man in a bat costume being forced to land a plane on the highway. In July, the exterior 'stunt' scenes were filmed outside of Inverness Airport in Scotland. During filming, a stuntman playing one of Bane's men fell from 8,000 feet and parachuted onto the roof of a house.[5] The plane returned to South Africa at the end of July.[6]
After its brush with fame, ZS-NVB returned to regular service, carrying cargo loads across southern Africa. On June 29, 2013, en route from Johannesburg to Lubumbashi, D.R. Congo, the plane crashed with no survivors as its two pilots attempted to land at Francistown, Botswana for refueling.[1] They had planned to land and refuel but thick mist on the ground caused them to miss the landing strip on their first pass. They called in to the control tower to notify that they would make a second pass because they could see the landing strip, but never did. The wreckage was found two hours later about 10 km from the airport.[1]
References
Edit
↑ 1.0 1.1 1.2 SA pilots die as 'Batman' plane crashes, News24, 3 July 2013
↑ 2.0 2.1 Registration history, retrieved from rzjets.net
↑ 3.0 3.1 3.2 3.3 Registration history, retrieved from airframes.org
↑ A sighting at Goodwood Airport, Chichester, 7 May 2011
↑ The Dark Knight Rises stunt goes wrong as parachutist crashes on roof, Metro News, 5 July 2011
↑ A sighting at Cranfield Airport, 24 June 2011, sparks discussion of the plane's location
Community content is available under
CC-BY-SA
unless otherwise noted.